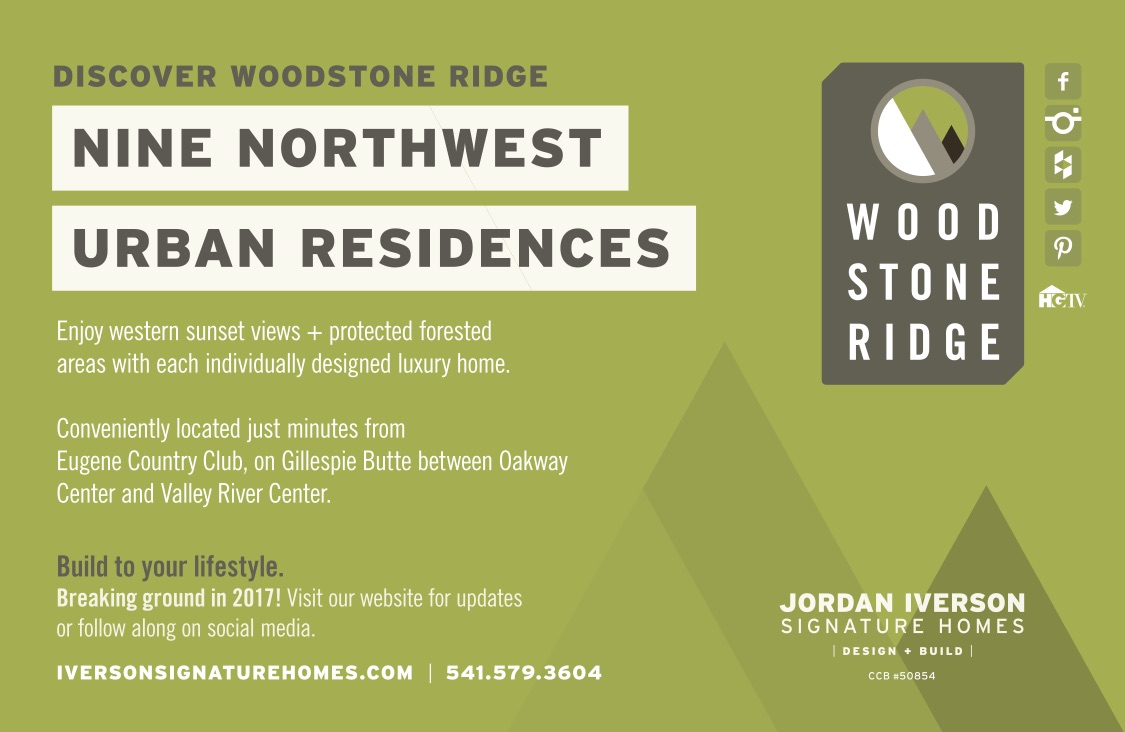 9 Homesites available NOW. Email us below or DM us on Instagram for more info on this unique opportunity! Click on the image for a Site Map.
Follow along on IG and FB for progress photos.
Sitting just to the West of Grand Vista Subdivsion and our nationally recognized, Crenshaw Road hilltop residences.
Grand Vista - Only 1 option left!
LOTS 2+3 - $125k (for both) - Crenshaw Road, Eugene, OR — 97401
**ASK ABOUT AN ADDITIONAL $15,000 BUILDER CREDIT** If closed by 6.30.18
This Eugene, OR homesite is conveniently located between Oakway Center & Valley River Center at the top of Gillespie Butte with truly breathtaking views to the West.
We get asked constantly if we have more urban homes available near downtown & we're excited to announce the Market District Townhomes in Eugene, OR. 20 residences, sitting at the base of Skinner's Butte. Steps from 5th St Market, the Brewery Blocks, & Whole Foods . In the middle of it all. Contact us using the form below or DM us on Instagram. Limited info available as we work hard on designs and price ranges.
Click on the image for a site map
north Gilham urban farm homes Saunders Village is live!
Move-In Ready! 1915 Elkhorn Drive, Eugene OR - $515k
The first of 12 uniquely styled homes in this brand new neighborhood conveniently located in the North Gilham area of Eugene. Minutes to wherever you need to be. Quartz counters, wood floors, covered patio and front porch, loft workstation space and on site parking. Small, low maintenance yard with garden space and adjacent to a large common landscaped common area with covered BBQ/Picnic area for the 12 homes to be completed.
» Home Flyer
FIRCREST CUSTOM RESIDENCE (PROPOSED)
Lot or Proposed Residence - Fircrest Drive, Eugene OR
One-of-a-kind East Eugene / Hendricks Park area custom residence. A perfect fusion of NW craftsman style and a NY Loft. Natural stone and raw steel, warm tones and clean lines. Customizable plans available, build to suit or purchase the lot only.
Saunders Village Custom Residences
Elkhorn Drive just off Gilham, Eugene, OR — 97401
NOW SELLING! A planned community of 12 single-family homes, individually designed with efficiency + luxury in mind. Easy maintenance private patio/gardens with a large, community open space to share. Centrally located close to shopping, arts and entertainment in the Coburg Road/North Gilham area of Eugene, Oregon.
Aerie Park Homesites
Aerie Park Place, Eugene, OR — 97405
Aerie Park subdivision homes feature unique NW modern styling. Flexible floor plans with 3+ bedrooms, 2 car attached garages are fully customizable. Efficiently designed to maximize value + livability! New homes in Eugene Oregon. Homesites from $58-85,000.
» Details
Crest Meadows Homesites
Crest Meadows & West 35th Avenue, Eugene, OR
If you're looking for a designer home located in one of the Eugene area's most sought-after neighborhoods, then your search is over! Close to parks, schools, and South Eugene's best shops... this just might be the perfect place for you build your dream home. Available lots $129,000+.
Crest Meadows #10 (proposed)
Crest Meadows & West 35th Place, Eugene, OR
Crest Meadows is a new 15-lot community in South Eugene. Lot #10 is close to parks and great South Eugene schools. This modern version of a French Country estate home has proposed designs, ready to complete.
Interested? We're here to help!
Go Ahead fire away! We'd love to hear your questions.
Send us a quick message of how we can help!